Sauvegarder / Convertir les sauvegardes GameCube (GC) sur carte SD (sd card)
Ça y est… c'est POSSIBLE!!
Il existe un logiciel (enfin) pour réaliser un backup de sauvegarde GameCube sur Carte SD, mais aussi la capacité de mettre de nouvelles sauvegardes chopper à droite à gauche sur le net directement sur vos cartes de mémoire Game Cube!
Le nom de cet excellent Homebrew: GCMM
Son créateur: Suloku
Pour télécharger l'application, vous pouvez vous rendre sur: http://wiibrew.org/wiki/GCMM
Cet utilitaire TRES injustement méconnue a été réalisé (pour sa dernière version) en décembre 2008. Il est bien réalisé, non bugé, et permet de petits miracles.
Les fonctions:
Backups and restores savegames into GCI format
Deletes savegames from slot B memory card
Wiimote and GameCube controller support
Power button support
Front SD (wii) and SDGecko (gc) support
A nice UI
Open Source!
Moi je dis.. c'est du tout bon! Les cartes mémoire game cube officielles fonctionnent très bien, ainsi que les Third Game Party. Je suis en train de faire une liste de site qui regroupe des téléchargement de sauvergardes gamecube (passez moi un mail si vous en connaissez..) mais c'est loin d'être facile:
– GameFaqs (Beaucoup de choix: avec de nombreuses sauvergarde gamecube.. dont Animal Crossing d'ailleurs afin de récupéré les 20 jeux nes jouables.. plutôt pratique)
– GameShark (Beaucoup de choix: attention, format spécial GCS.. heureusement Monsieur Truc est là avec un outil de convertion de GCS en GSI.. c'est pas beau la vie?)
– Filetrip (très peu de choix)
– http://web.onetel.net.uk/~cairocamel/gamecube_saves.html (trés bien!)
– http://www.kai666.com/forum/viewforum.php?f=11&topicdays=0&start=25 (forum)
Les outils qui vous seront vraiment utiles:
– Convertir une sauvergarde GameCube dans le format GCI ou GCS: cliquez ici pour GCI2GCS_1.0 (l'interface est super simple et ça MARCHE)
– Convertir la région de votre sauvergade gamecube (passez d'une US, à une PAL où une Jap par exemple): Cliquez ici pour GCSregionconverter
– MDSC (même fonction que GCI2GCS mais plus compliqué): cliquez ici
– GC Save Files Convert 1.0: cliquez ici (son nom est assez explicite non?)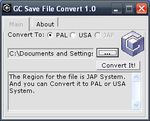 Pourquoi faire cela? Pour ma part, tricher je m'en fou, mais alors totalement.. En revanche, comme dirais mon amis Jihem, la prolifération de jeux nous donnes de moins en moins de temps à donner beaucoup de temps à des jeux que à d'autres.. Du coup, j'aime bien découvrir des jeux et avoir déjà « le tout » ou presque (sauf pour un jeu d'aventure… là c'est sans intérêt bien sûr!)
Aller bon jeu à tous!